Mission
Conduct a human and advanced medicine with common sense and through constant academic updating in Brazil and abroad.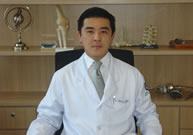 Dr. Gilberto Yoshinobu Nakama is graduated in Medicine at USP (Campus Ribeirão Preto) and specializes in Orthopedics, Traumatology and Knee Surgery in the Universidade Federal de São Paulo (UNIFESP), where he teaches specializing doctors.

Nowadays, he is an orthopedic doctor in Hospital Israelita Albert Einstein.